Download here the 2023 Annual Meetings Participant Guide

Last Updated: September 29, 2023
Registration for the Annual Meetings
Registration for the 2023 Annual Meetings is open and available on IMF Connect.
Accessing the registration site
The 2023 Annual Meetings official registration badges can be picked up at the venue. The registration site is outside the security perimeter and you are not required to display a badge to access this area.
Meetings Badges
All persons must display their Annual Meetings photo identification badges to board the shuttle buses or enter through the perimeter checkpoints. It is not advisable, however, to wear identification badges in public outside the perimeter, especially if there are demonstrators nearby.
Badge Collection
In order to collect their badge, participants must present their confirmation letter and a government-provided ID to registration staff. Attendees without a photo already associated with their registration record will need to have their photo taken at the registration counter.
Attendees may collect their registration badges at the registration site starting  Sunday, October 8 through Sunday, October 15. Registration desks are located at the Main Entrance of the Campus. All participants must be registered and accredited before the Annual Meetings start; only persons with an Annual Meetings badge will have access to the Meetings campus.
Registration hours of operations are the following (subject to change):
Sunday, October 8
12:00 noon to 6:00 p.m.
Monday, October 9
7:00 a.m. to 5:30 p.m.
Tuesday, October 10 – Sunday, October 15
8:00 a.m. to 5:30 p.m.
Simplified entry formalities for Annual Meetings participants.
Participants should use the Moroccan Ministry of Foreign Affairs' online visa application platform https://www.acces-maroc.ma/ . The platform provides information for whether you need a visa to travel to Morocco, and if required, you can apply for the visa on this platform. Please note that you must be registered for the 2023 Annual Meetings prior to applying for visa. 
For questions related to visas, please contact: eVisa@moroccoAM2023.ma 
Passports 
Please ensure that passports are valid for at least six months from the date of entry into Morocco. 
The 2023 Annual Meetings will take place in Marrakech, on the site of Bab Ighli (GPS: 31.605315, -7.993524). The main entrance is located on Avenue Mehdi Ben Barka. 
The campus in the middle of the most important hotel zones of Marrakech (L'hivernage, Gueliz, Agdal, Ancienne Medina) and it is close to the main historical sites and 10 minutes-drive from the Marrakech-Menara airport.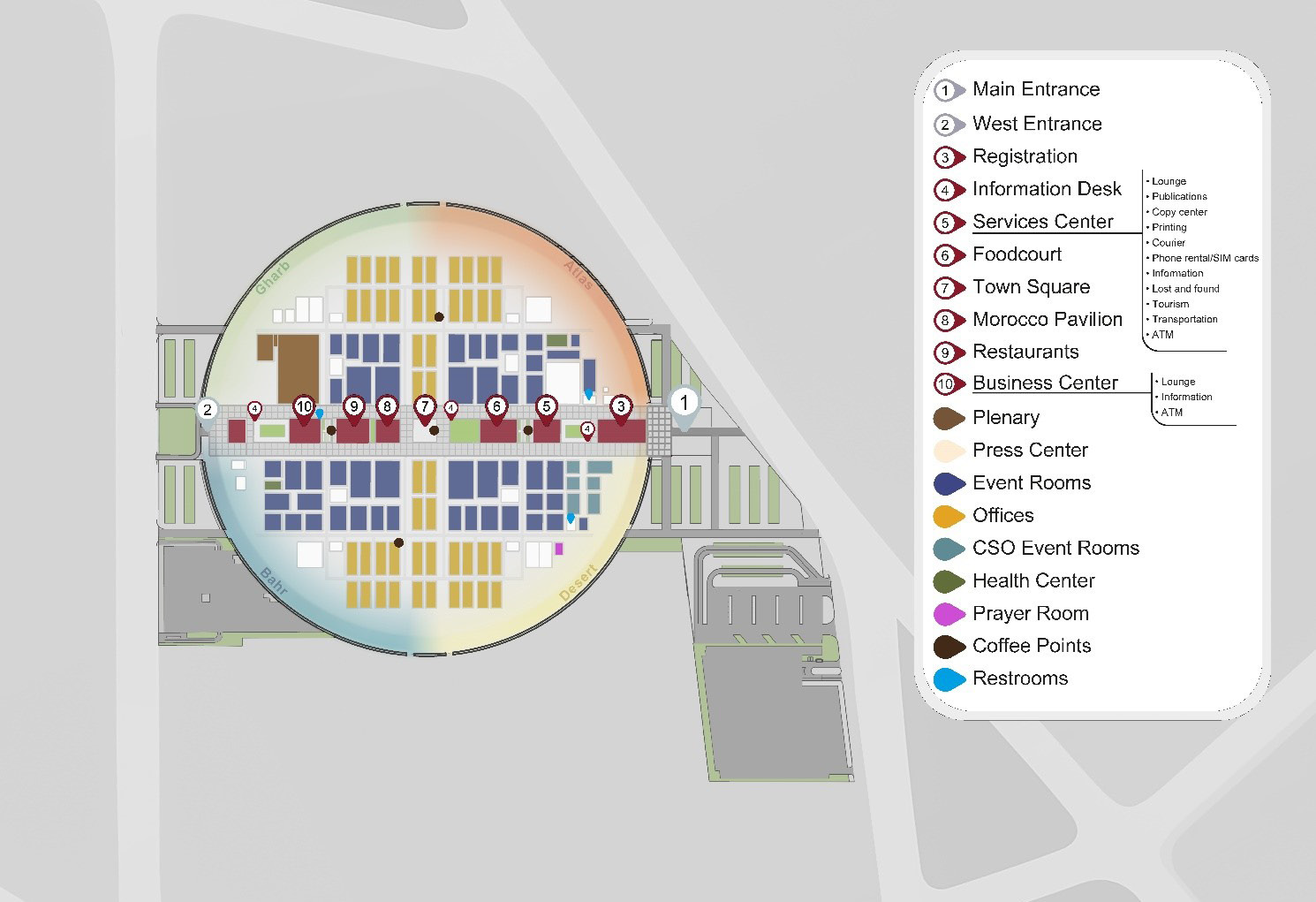 The Campus is designed in four quarters representing the unique regions and landscapes of Morocco, bisected by two main thoroughfares: the Decumano and Cardo. Wayfinding signage and room names will reflect the designations of the various sections.
Gharb Quarter: Green
Bahr Quarter: Blue
Atlas Quarter: Terracotta
Sahara Quarter: Yellow Perimeter
A security perimeter will be established around the Annual Meetings venues. Only registered participants with Annual Meetings ID badges will be able to enter the security checkpoints and individuals and their belongings may be subject to security screening. Participants are strongly advised to allow adequate time for this process. 
Access
An Annual Meetings ID badge is required for access inside the security perimeter and entry into all meetings venues. Some meetings and events may have additional access restrictions. Participants will be notified in advance of any special requirements.
Emergency Guidelines
For information on emergency and evacuation procedures, please see the emergency instructions information at the host country website.
General Safety
​SECURITY TIPS
In an emergency, the buildings may be evacuated or you may be told to remain indoors until the situation has been resolved. In either instance, you will be notified by public address announcement, messages on digital signage/video monitors, or by security personnel.
Visibly display your Meetings ID badge at all times inside the venues. Keep your ID badge in a secure place when outside the security perimeter, but readily accessible in order to display upon request at security checkpoints.
If you lose your badge, immediately notify Annual Meetings staff.
Do not leave laptops, mobile phones, or other personal items unattended.
Avoid areas where crowds are congregating. If your entry into the buildings is impeded by demonstrators, seek assistance from security or Police.
Accept, without comment, printed materials offered by demonstrators; do not engage in conversations or debates.
Obey the instructions of police and security officers at all times
Food and Beverage
A variety of cuisines will be offered in restaurants throughout the campus. Credit cards and cash (Moroccan Dirham) will be accepted for payment. Times below are subject to change.
Food Court: Located at the center of the venue in the Decumano and gathers different culinary concepts. 7:00 AM to 4:00 PM
Self-service Restaurant: Offers a diverse menu, Moroccan and international. 11:00 AM to 7:00 PM
Buffet Restaurant: Adjacent to the self-service restaurant, the Buffet Restaurant provides a gastronomic experience with a dedicated menu.      11:00 AM to 4:00 PM
Delicatessen Boutique: The Delicatessen Boutique represents the real Moroccan culinary heritage from homemade recipes (pastries, teas, infusions, spices, honey, marinades, olive oil) to local products.                                  11:00 AM  4:00 PM
Coffee points: Several coffee points are integrated throughout the Campus and offer hot beverages, juices, pastries, and cold sandwiches. Service between 7:00 AM and 7:00 PM / 10:00 AM - 7:00 PM.    
Restaurants in Marrakech
Please visit this link: AM 2023 (stoursevents.com) to book a restaurant in Marrakech.
Services on Campus
Business Center: The business center wil be available from Monday, October 9 through Sunday, October 15 daily from 8:00 AM to 6:00 PM. A lounge will be available for all participants.
Book store and Fund and Bank Publications: Publications and materials from IMF and World Bank media partners, external publishers, as well as other publications relevant to the Meetings, will be available.
Information Desks: Trilingual staff will be providing information about the hospitality programs, transportation services and restaurants along with information regarding the Campus.
Phone Rental and SIM Cards: This desk will offer a phone rental service and mobile phone SIM Card and Credit top up.
Lost and Found Desk: Found items will be held until Sunday, October 15. Unclaimed items will be handed over to the Moroccan Police Department at the end of the Meetings.
Banking services and ATM: Available for currency exchange and local current (Moroccan Dirham) withdrawl.
Copy Center: A desk that can offer document reproduction services, including printing, copying, scanning and binding.
Print Services: Participants can order pre-paid printing of documents and publications at the print service desk.
Courier Services: Pre-paid courier services are available.
Complimentary internet access will be available on Campus during the Annual Meetings week.
Network name: AM2023
Password: Maroc@2023
Air Links
No less than 25 leading airlines serve Morocco. Beyond the political and economic capitals, Rabat and Casablanca, all the major regional industrial centers and tourist destinations are widely served, first and foremost Marrakesh, but also Agadir, Tangier, Fez, Meknes, Essaouira, Oujda and more. Click here to know more
Car Rental and Taxi at the Airports
At the exit of both Marrakech and Casablanca airports, passengers can either take shuttle buses, taxis or call a car rental agency. Click here to know more.
Taxi from Marrakech Airport: Upon arrival, passengers wishing to be transported by Taxi are guided by signs to a counter "Kech.cab" to order a cab and prepay the fare by card or cash. The prices of the trips are known in advance and fixed according to the destination. Payment is made against a receipt that the passenger must scan on one of the dedicated terminals, after which the passenger obtains a ticket mentioning the number of the cab and its rank in the queue.
Taxi from Annual Meetings Campus or hotels
Taxis in Marrakech, identifiable by their uniform beige color, are readily available and a popular mode of transportation.
Annual Meetings Campus: A taxi stand is conveniently situated at the campus exit located 200 meters south of the Main entrance.
Official Hotels: If you are a guest at an official hotel, the concierge, doormen, or the welcome desk can assist you in ordering a taxi.
Streets and Points of Interest: Taxis can be hailed directly from the streets of Marrakech, or from taxi stands located near major points of interest throughout the city.
Please note that when taking a taxi, it is important to ask the driver to use the meter or to confirm the fare in advance before starting the ride to ensure an agreed price. Additionally, taxis in Marrakech only accept Moroccan dirham cash payments, so please make sure to have enough cash (in small bills) on hand to pay for the ride.
Access to Annual Meetings Campus
Only vehicles with Host Government issued placards (these are stickers issued by host government) will be allowed to enter the Meetings Campus access roads. You can apply for C-Placard here for rented vehicles, and reach out to placard@moroccoAM2023.ma for any questions on this. "C" placards will allow cars to enter the campus gates at the Main Entrance (East side), drop off/pick up at the Main Entrance and park in the main attendee parking area. There are only a limited number of C-Placards, and they are available at the discretion of host government only on first come first serve basis.
Shuttle Schedules
Shuttle Service between the airports (Marrakech and Casablanca) and Official Hotels in Marrakech
Shuttle service between the airports (Marrakech and Casablanca) and Official Hotels in Marrakech will operate from October 5 to October 17 on regular intervals between 6:00AM and 12:00AM
Estimated wait time at Marrakech airport will be a maximum of 30 minutes; At Casablanca airport, a maximum of 2 hours.
The shuttles from Casablanca will take passengers to a transfer point downtown Marrakech, from there they will be transported to their official hotels.
Estimated transport times:
Between Marrakech Airport to Official Hotels – approximately 20-40 minutes
Between Casablanca Airport to Official Hotels – approximately 3 hours 30 minutes.
At the airport, follow signs to the "AM23 Information Desk located at the exit of the airport. Hospitality personnel will be available to provide guidance to the shuttles that will be parked 2-minute walk from the exit.
Have your Registration Confirmation Letter and photo ID available to board the shuttle.
Departure Instructions: Please schedule your return airport shuttle through the Welcome/
Information Desk at your official hotel or at the Meetings Venue at least 2 days prior to departure. Hospitality personnel will confirm pick-up times according to your destination and flight time.
- For departures from Marrakech airport: The suggested time to board the shuttle is 3 hours and 30 minutes before the scheduled departure time.
- For departures from Casablanca airport: The suggested time to board the shuttle is 6 hours before the scheduled departure time.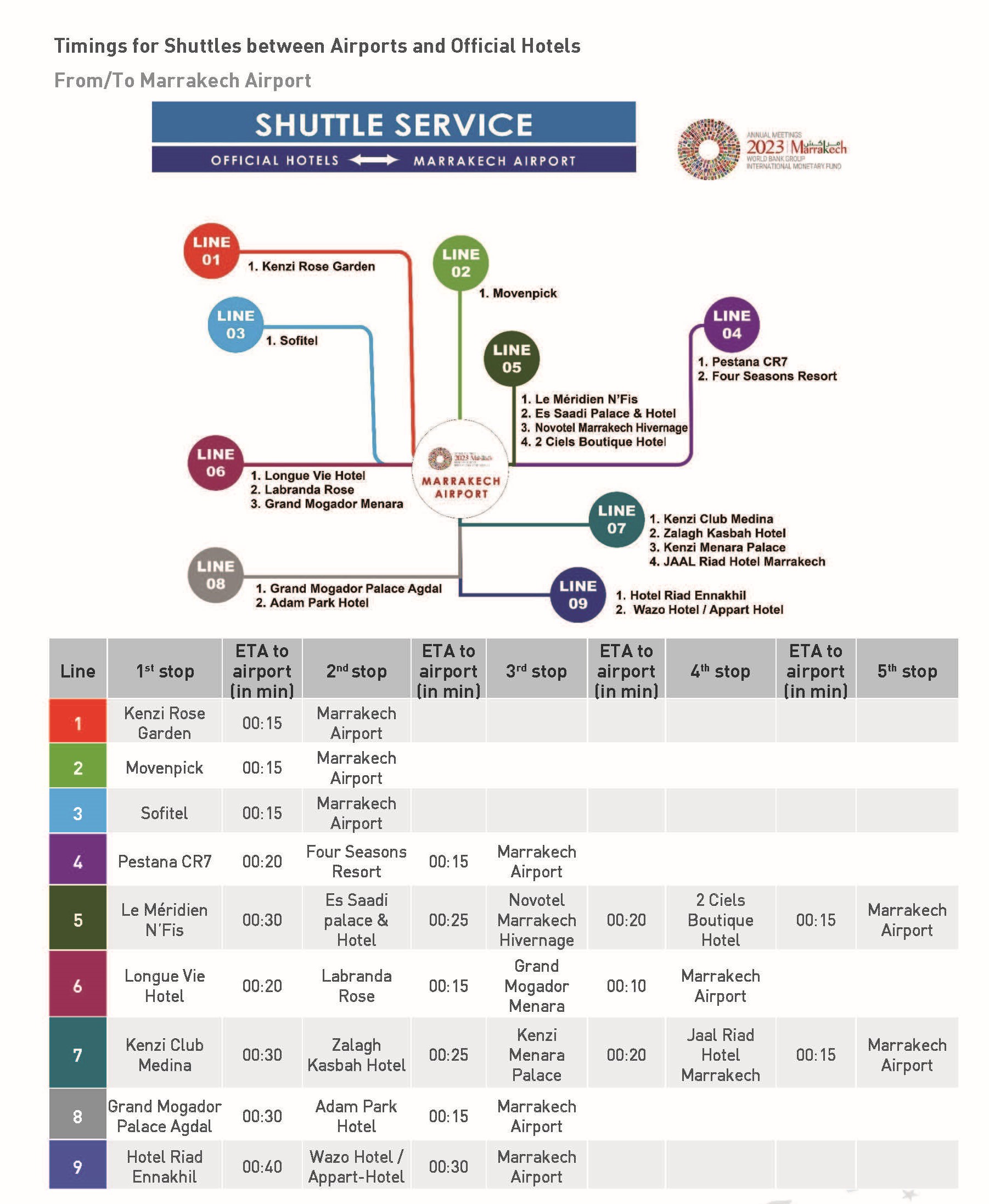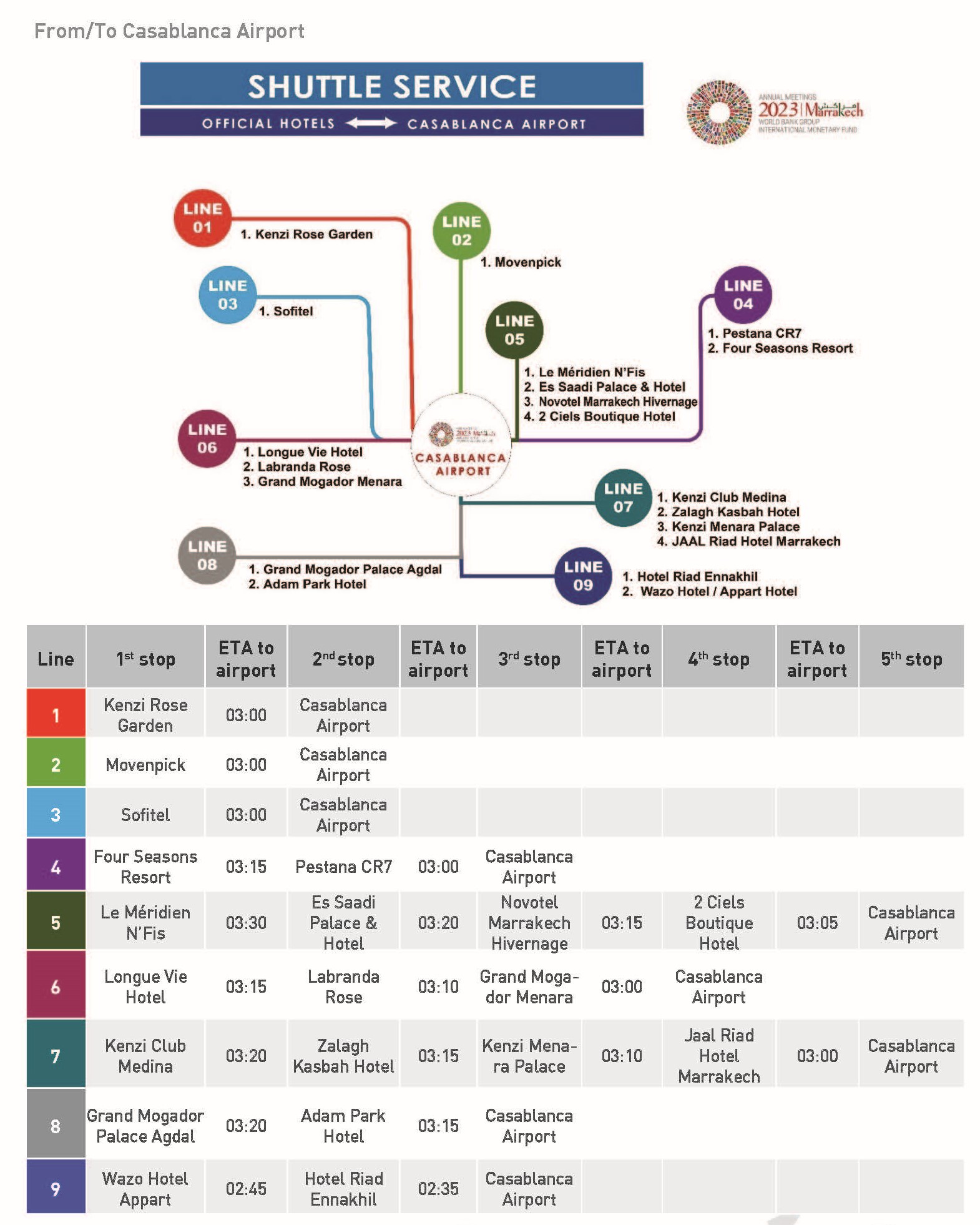 Shuttle Service between the Official Hotels and the Meetings Venue
Shuttle service between the Official Hotels and the Meetings Venue will operate from October 8 to October 15, on regular intervals from 7:00 am until 9:00 pm.
Wait time for shuttles is estimated between 15 to 30 minutes.
To board the shuttle, have your Registration Confirmation Letter and photo ID or your Annual Meetings badge available.
There will be a Welcome Desk in every Official Hotel and at the Meetings Venue, staffed at the same times of transport services, to provide information on shuttles.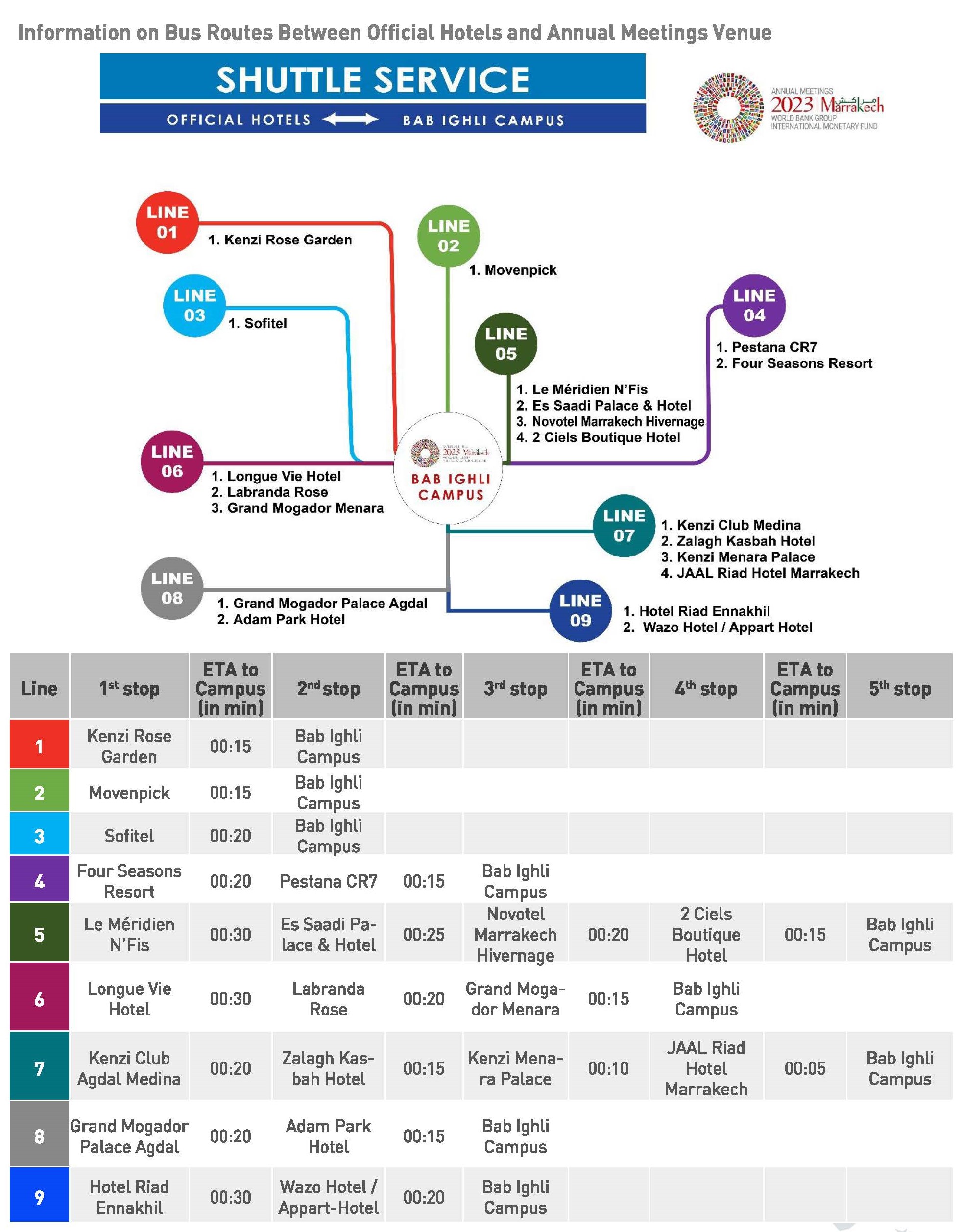 IMF Staff and OED

Please click here for hotel information for OED and IMF Staff.
Registered Guests and Press
Customs and Changes
Morocco is subject to foreign exchange controls and regulation that restricts the export of foreign currency and dirhams (MAD), the national currency. Click here to know more
Before you travel, please consult the Host Government website for details of items that can be brought into and taken out of Morocco.
Insurance
Participants are strongly advised to arrange for their own insurance for individual travel, medical care and personal effects while attending the Meetings. Participants at the 2023 Annual Meetings are not covered for insurance purposes by the World Bank Group, IMF, or the Government of Morocco, nor will these institutions accept responsibility for costs related to re-booking travel, personal injuries, loss or damage to participants' personal properties.
Tourism
The host Government has provided information regarding local tourism packages for participants who may wish to explore Morocco. Information on the Tourism program is available on the Host Government website.
Cultural and touristic program
Discover the rich cultural heritage of Marrakech and beyond with our specially curated program of cultural and touristic activities for attendees of the Annual Meetings of the World Bank and IMF 2023. From visits to museums and historical monuments, to sports and discovery activities, and getaways to cities like Casablanca, Rabat, and Fes, we've got you covered. Book your spot now on our platform and get ready for an unforgettable journey through the wonders of Morocco. Click here to explore the program
Electrical Outlets
| | |
| --- | --- |
| In Morocco the power plug sockets are of type C and E. The standard voltage is 220 V and the frequency is 50Hz. Type C outlets are recognizable by their two round pins, like those found in Europe. These are commonly used for devices with lower power requirements like smartphones, cameras, and chargers. Type E outlets are similar but have an added grounding pin. They are suitable for a broader range of devices, including those with higher power demands such as laptops and hairdryers. | |
Helpful Phrases
| | |
| --- | --- |
| English | Arabic |
| Good morning / Good evening | Salam Alekum / Msal'khir |
| Goodbye | Bsslama |
| How are you? | Labass |
| Fine, thank you, and you? | Labass hamdoullah |
| I understand / I don't understand | Fhamt / Ma Fhamtch |
| It was delicious | Lay i âtik ssaha ! |
| Yes / No | Wakha / La |
| Thank you (very much) | Choukran (choukran bezaf) |
| My name is... | Brit Nemchi |
| I would like to go to ... | Tolong saya |
| How much is it? | Bch-hal |
| Taxi | Taxi |
| Where is ...? / How can I get to ...? | Fayne ? / Kif nemchi li… ? |
| Hotel | Foundouk |
| Help! | Aâtkouni ! |
| I'm lost | Jlit rassi |
| Water | El Ma |
| I am allergic | Fiya al hassassiya |
| Have a nice day! | Lay i aâouen ! |

*Please note: emergency numbers are accessible from landlines and mobile phones, but only with a SIM card from one of the three Moroccan operators (Maroc Télécom, Orange Maroc and Inwi); they are not accessible from a mobile phone equipped with a SIM card from a foreign operator, even with the roaming option.